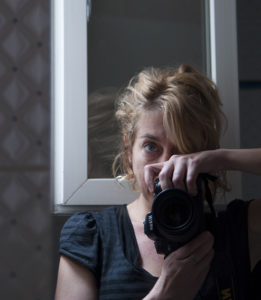 Professional photographer specialized in documentary photography and expert in forensic scientific photography . My experience covers socially at the national and international level, doing human report work since 2015 in different territories, in the Balkans (2015), on the consequences of the forced migration of refugees in Europe, collaborating with the NGO Olvidados, in Katsikas Greece (2016), as a volunteer and photographer. And report with photographic report of the refugee camp in Belgrade, Serbia (2017). At the national level working with people at high risk of exclusion, as well as issues of homelessness (collaborating with the RAIS foundation, Valencia), social exclusion and gender violence, this last through workshops with non-profit associations where you work the self-concept through the self-portrait.
My education is given by studies related to art, but at a photographic level I educated myself as a professional self-taught thanks to the training received by colleagues and professionals found in the long stays in different countries of Central America, South and Europe, during seven years of travel. Plus the constant training in the field of documentary photography in approved workshops and courses in the city of Valencia. In 2018, I made the III Postgraduate in Fine Image, where I began to train as an expert in the scientific image of the University of Alcalá, and which I continue to develop and continue to do today, choosing forensic photography as a specialty.
Between the most outstanding works, they emphasize «The route of Cassamance» medium-length documentary about the influence of the tourism in the South zone of Senegal, and as it affects its inhabitants and culture. Realization of Mexico-Spain-Senegal, self-subsidized by the artists and exhibited by theaters in Barcelona in 2008. The production of EÑE, a photographic work that deals with the Spanish crisis that was exposed in an effective way in the International Festival Art Nord-Art, (museum of modern art Büdelsdorf, Germany) and exhibition halls of Paris, France. 2015. The art-creation of the photo-work " I´m Katsikas", (Work on refugees in 2016) selected and exhibited in the gallery Bartlett on the International Festival Belgrade Photo Month. AV PTO 31, photo report on the abandonment of people and places in the Spanish economic crisis, obtaining the 3rd prize in the Carpetes Obertes Competition in the city of Valencia, and finalist in the 2017 Albarracín Scholarship Awards. 2019.
With the criminologist Vicente Garrido in activities related to the situation of violence in the image and training and investigating criminal forensic photography today.