Comprar / Buy.
Formulario de compra. Serie copias numeradas.
ES / EN
Todas las fotografías de esta página están disponibles para la venta.  Las imágenes se imprimen en un laboratorio de impresión profesional en papel blanco con base de algodón llamado FineArt Hahnemühle Photo Rag®, 308 g/m². Las dimensiones indican el tamaño de la imagen. Cada impresión incluye un pequeño borde blanco alrededor de la imagen para permitir un fácil enmarcado. Si desea otras dimensiones de impresión, no dude en ponerte en contacto conmigo.
Los derechos de difusión, reproducción, representación y explotación de las imágenes siguen siendo propiedad de su autor, la venta de las copias originales sólo es posible en caso de uso privado y con exclusión de cualquier otro.
Cómo pedir una copia:
1/ Usted me envía un e-mail especificando la imagen que desea pedir en el formulario que se encuentra en esta misma página o al correo info@anajimenezphoto.com indicando la referencia, el tamaño, la cantidad de impresiones y sus datos personales para poder tramitar el pedido.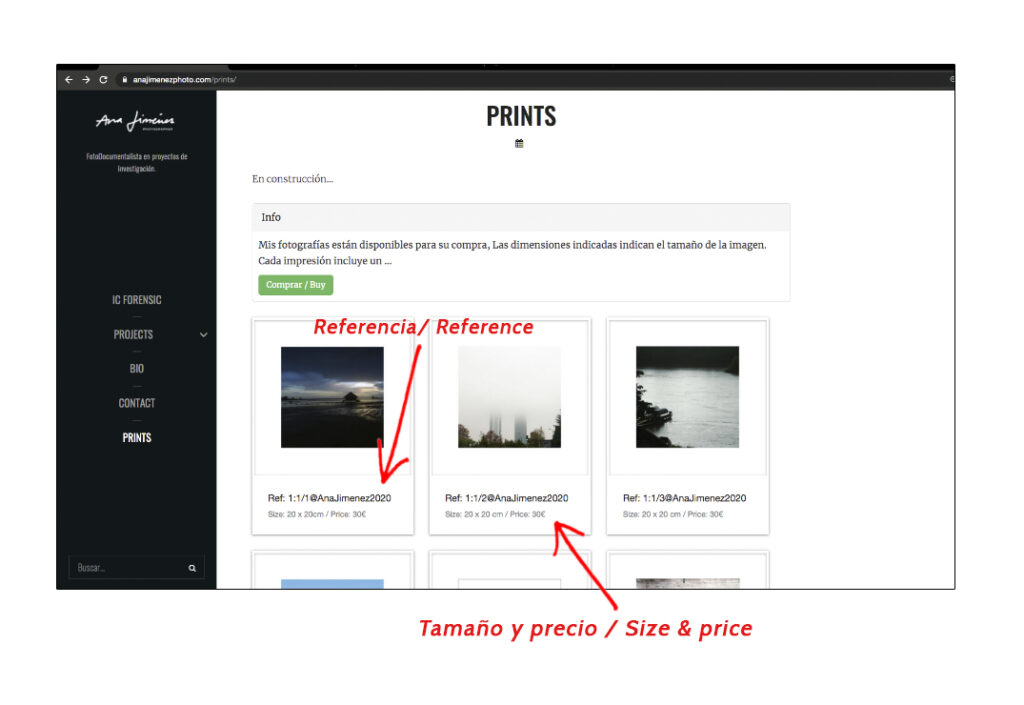 2/ Al recibir el email, me pondré en contacto con usted para concretar el método de pago y de entrega (envío por correo postal o en persona).
Tiempo de entrega:
Entre 1 y 7 días. Dependiendo el método de entrega que se haya pactado.
Modos de pago:
El modo de pago será a través de Paypal o transferencia. Los detalles y datos se entregan al recibir el email de confirmación de encargo. Una vez realizado el pago, comienza el proceso de impresión y envío. Todos los pedidos dentro de la Unión Europea (UE) están sujetos al impuesto sobre el valor añadido de la Unión Europea (IVA de la UE). 
El envío por correo tiene un coste extra de 10€, con seguimiento de paquete a través de una código, no incluidos en el precio de la obra. Este precio es igual para España y el resto de Europa.
Gracias
Formulario de compra / Purchase form :
EN
All photographs on this page are available for sale.  The images are printed in a professional printing lab on Hahnemühle FineArt paper Photo Rag® 308 g/m², printed on white cotton-based paper. The dimensions shown indicate the image size. Each print includes a small white border around the image to allow for easy framing.If you would like other dimensions of the print, please do not hesitate to contact me.
The rights of diffusion, reproduction, representation and exploitation of the images remain the property of their author, the sale of original copies is only possible in case of private use and to the exclusion of any other.
How to order a copy:
1/ You send me an e-mail specifying the image you wish to order in the form on this page or to info@anajimenezphoto.com indicating the reference, size, quantity of prints and your personal details in order to process the order.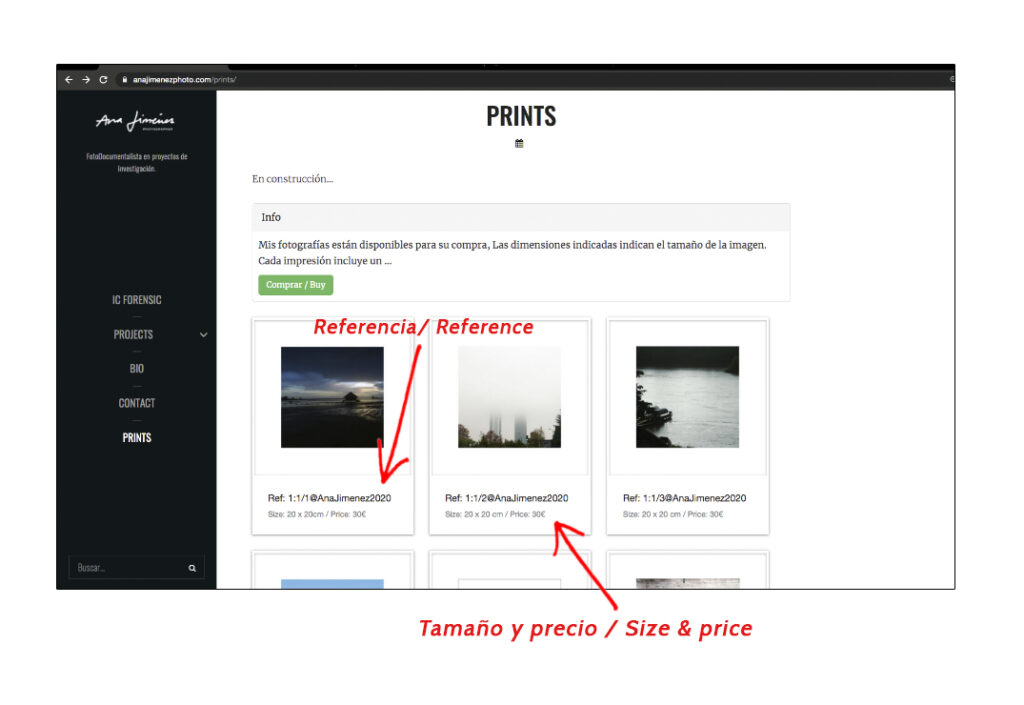 2/ Upon receipt of the email, I will contact you to specify the method of payment and delivery (mail or in person).
Delivery time:
Between 1 and 7 days. Depending on the method of delivery that has been agreed.
Methods of payment:
The method of payment will be through Paypal or transfer. The details and data are delivered upon receipt of the order confirmation email. Once the payment is made, the printing and shipping process begins. All orders within the European Union (EU) are subject to European Union Value Added Tax (EU VAT).
Shipping by mail has an extra cost of 10 €,with package tracking through a code, not included in the price of the artwork. This price is the same for Spain and the rest of Europe.
 Fill in the purchase form to place an order
Thanks